We would like to invite you to great training and Q & A event sponsored by themortgageadvantge.com on March 12th from 9:00 – 10:30am at Stewart Title on Ray Rd, the northwest corner of Ray and the 101.
Angelo D. Rea has worked directly with HUD and VA for over 24 years.  In 2005 he developed FHA and VA approved training workshops. He travels extensively throughout the country supervising government underwriters. In addition, he works directly with Credit Risk Officers to analyze FHA and VA loans and closely monitors all government lending business for different lenders.  He is a dynamic, knowledgeable speaker and is considered one of the foremost national authorities  on FHA and VA loans. 
This is truly a rare opportunity.  We are very grateful that he is willing to speak to agents regarding government lending.  He is not dry at all and can actually make it fun.  We were invited to hear him speak two years and learned a lot without making our ears bleed.
Please call 480-831-1588 to RSVP
 WHEN: 9AM Wednesday March 12th
 WHERE: 3100 W Ray Rd, Suite 135, Chandler, AZ 85226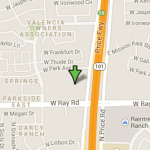 Stewart Title – Arizona
San Tan Corporate Center
3100 W. Ray Road Suite 135 (Classroom)
Chandler, AZ 85226