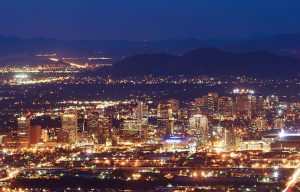 By Tim Gallen  – Digital Editor, Phoenix Business Journal
Nov 29, 2018, 9:00am EST
Phoenix will be one of the top housing markets to watch in 2019, according to a report from real estate website Trulia.
The analysis, released Thursday, highlights the 10 markets poised for growth in the coming year. Phoenix ranks No. 7 on the list, just behind Fresno, California and ahead of Columbia, South Carolina. Colorado Springs, Colorado topped the rankings.
Trulia examined the 100 largest U.S. metropolitan areas, measuring each on five metrics including job growth over the past year, vacancy rates, starter home affordability and percentage of the population under age 35.
The Valley's strong job growth — 2.9 percent — in the past year, along with starter home affordability and low vacancy rates helped the market attain its spot in the rankings. According to Trulia, residents in Phoenix spend just 33.7 percent of their income on housing, which signals strong starter home affordability in the market. The Valley also has a ratio of 1.3 of inbound vs. outbound searches on Trulia's website. That means more people are interested in moving to the market than those searching to move away.
Trulia's report also zeroed in on the hottest neighborhoods in each top market. In the Valley, it's Agritopia in Gilbert, which saw home values appreciate 14.6 percent year over year. Homes in the neighborhood also saw the average number of days on market drop by 18 days, according to Trulia.
As the local economy has continued to add jobs and grow, the housing market around Phoenix has seen a healthy year in 2018. Several homebuilders have scooped up land for new communities and restarted once-dormant projects to meet demand. A recent housing study found existing home prices climbed nearly 6 percent in October.